Concrete Workshops
Early Registration For Concrete Workshops Is Encouraged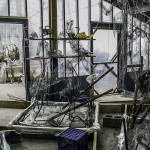 Creative concrete workshops are offered to anyone wishing to try his/her hand at exploring a new art form. These workshops, held in January each year at Cosby's Garden Centre, are designed to guide and instruct everyone from the fledgling novice to the confident sculptor!
Over the years projects have ranged from the functional to the whimsical to the highly creative! The success of these workshops can not only be attributed to the patient, careful guidance given by Ivan but to the enthusiasm of the participants themselves. The atmosphere is relaxed and the bond and camaraderie developed between the participants is unique.
Most participants return year after year after having mastered making their first 'frog' or 'butterfly' to completing their first water feature! The confidence gained, the talents exposed and explored make this workshop a truly rewarding and memorable experience. There is only one drawback however, you must book your space for you and perhaps that of a friend early as registration for this workshop fills up quickly.
Click HERE to reserve a spot in one of our Creative Concrete Workshops